Weekend Brunch Special
Every Sunday
10 am – 2 pm
Price: $21.99 Adult, Children: 14.99 (6-12 years) (Max 2 Child) [All you eat}
You can also enjoy individual Thali $10.99
Reservation Required
12 plus items all you can eat and Drink, including, Halwa, Chane, Aaloo, Keema, Goat Paya, Nihari, Biryani, Naan, Puri, Yogurt, Pickles, and Tea.
Welcome to our restaurant where we specialize in serving delicious Pakistani cuisine for breakfast and brunch. Our breakfast menu is filled with mouthwatering dishes that are sure to satisfy your appetite and leave you wanting more. From Halwa Poori to Nihari, Biryani to Tea, we have something for everyone.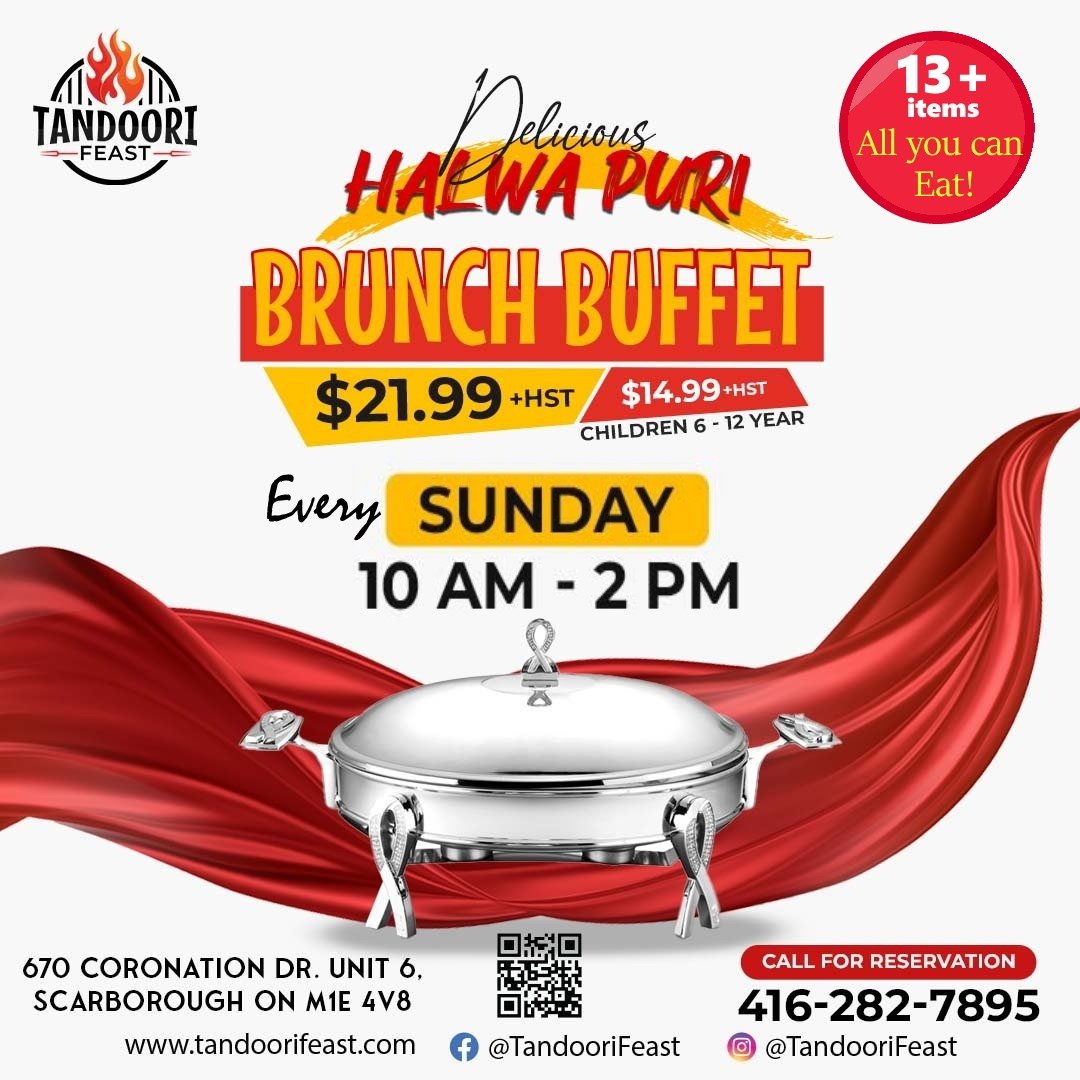 One of our most popular breakfast dishes is Halwa Poori. This dish consists of a flaky, crispy Poori bread paired with a warm, sweet Halwa made with semolina and sugar. We serve it with aloo (potato) and chana masala (chickpea curry) to create a filling and satisfying meal that will keep you energized throughout the day.
For those who want to try something a bit more exotic, we highly recommend our Goat Paya and Nihari. These are traditional Pakistani stews made with tender goat feet that has been slow-cooked to perfection. The broth is rich and flavorful, with aromatic spices that will tantalize your taste buds.
If you're in the mood for something a little spicier, our Biryani and Keema dishes are sure to satisfy. Biryani is a fragrant rice dish that's cooked with aromatic spices and served with succulent pieces of chicken meat. Keema is a spicy minced beef meat dish that's perfect for those who love a little heat in their breakfast.
To balance out the flavors of our savory dishes, we also offer a selection of sweet treats like Kheer and Yogurt. Kheer is a creamy rice pudding made with milk, sugar, and fragrant spices like cardamom and saffron. Our yogurt is made fresh in-house and is the perfect way to cool down after indulging in our spicy dishes.
Last but not least, no Pakistani breakfast is complete without a selection of homemade pickles. We offer a variety of pickles, including mango, lime, and mixed vegetable, all of which are made with fresh ingredients and traditional Pakistani spices.
Come and visit us for breakfast or brunch and experience the authentic taste of Pakistani cuisine. We promise you won't be disappointed!